The Maple Ridge-Pitt Meadows News and The Global News article below spell out how the Port of Vancouver can't get even the small projects right. A $63.3 million project has more than tripled to $190 million, and taxpayers are going to have to step up to help bridge the gap. Sound familiar? It should. It's a microcosm of the multibillion-dollar problem that is playing out with the Port's Roberts Bank Terminal 2 expansion project, where a $2.4 billion project has ballooned into a $3.5 billion project, and, once again taxpayers are the ones who will be left on the hook. Watch this video to learn more.
No wonder so many are opposed to the Port of Vancouver's Roberts Bank Terminal 2 (RBT2) container terminal megaproject. It's past time for the federal government to #RejectRBT2.
Pitt Meadows underpass becomes 3 times as expensive, with $50 million requested from city
Maple Ridge-Pitt Meadows News
By Brandon Tucker
March 29, 2023
https://www.mapleridgenews.com/news/pitt-meadows-underpass-becomes-3-times-as-expensive-with-50-million-requested-from-city
'This project is on life support,' said mayor
The future of the Harris Road underpass project is in jeopardy after the Vancouver Fraser Port Authority announced at Tuesday's council meeting that the projected cost of the project had now more than tripled its original estimate.
Devan Fitch, program director for the port authority, explained that the sudden change to the price tag was due to many different factors, but cited construction cost inflation rates as one of the biggest contributors.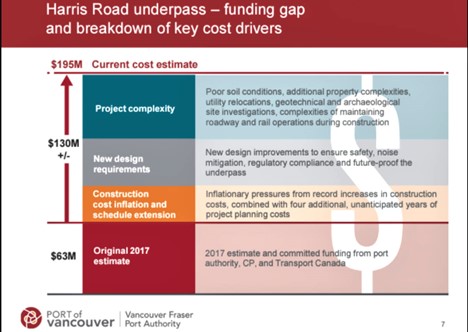 Breakdown of project cost of Harris Road underpass project. (Vancouver Fraser Port Authority/Special to The News)

As a result, what was originally estimated to be a $63.3 million project will now cost a total of approximately $195 million.
"We have a very large funding gap to close if the project is to move forward," said Fitch.
"Almost every stone we turned over in this case was hiding something unpleasant which costs more money. The silver lining is that at this point, we have run out of stones to turn over."
"One of the biggest changes in cost is related to new design requirements. A good example of that is the change in seismic design code. Essentially, we are required to now design and construct that Harris Road underpass for a much larger and more powerful earthquake."
Fitch explained that the port authority explored every avenue they could think of in order to help reduce the cost of the underpass, but was unable to find a solution that everyone could agree on.
"The only meaningful way to save costs – in our view – is to switch to an overpass," said Fitch.
"We've done some studies and proven that this is technically feasible. We also believe that it achieves the key interests of partners around public safety, eliminating travel time delays, emergency response reliability, noise mitigation, active transportation, heritage building relocations, and efficiency of operations along the rail corridor to support Canada's national trade objectives."
"We've shared this information with the city and we understand that the city is not supportive of moving forward with an overpass with their view of the adverse impacts that this would have on the community."
As a result of this new $195 million price tag, the Vancouver Fraser Port Authority is now asking the City of Pitt Meadows to cover 25 per cent of the total cost, up to a maximum of $49.6 million.
But contributing such a large sum of money is not something the city can do quickly, or potentially even at all, explained Mayor Nicole MacDonald.
"The ask for almost $50 million is not something that is within the council's independent purview," said MacDonald. "That would need a referendum."
"In order to pursue this, the city would be shifting from the fundamental core principle of not being a funding partner. Obviously, that's a complete change in direction."
Former mayor Bill Dingwall also took a turn on the mic during the open questions and comments period to voice his opinion on the sudden news.
"This is just devastating," said Dingwall.
"I know we started with $142 million and the federal government is going to kick in another $11 million, which takes us to $153 million, but now there's an ask for the city to pay about 25 per cent. From my humble background, there's absolutely no way. That's more than our whole year's budget."
Instead, Dingwall called on CP Rail and the federal government to help ease the financial burden being shifted onto the small city.
"The federal government and Canadian Pacific need to step up," he said. "This needs to happen and they need to put the bulk of the money in. Even $5 million would be hard for the City of Pitt Meadows."
According to the City of Pitt Meadows, meeting this nearly $50 million ask from the port authority would result in an approximate tax increase of $300, or nearly 12 per cent, for the average single-family home.
The port authority called on the city to make a provisional commitment to the project by April 14, with Fitch warning that each month of delay would add a further $1 million to the estimated budget.
He also said that this is an incredibly urgent project, with the port authority identifying the Harris Road crossing as one of the top 500 riskiest railways crossings in the entire country, putting it in the top three per cent on a priority basis.
"In 2019, we estimated that the level crossing arms for Harris Road were in the down position blocking the movement of people for about three-and-a-half hours per day," explained Fitch. "With our forecasts for increase in trade volume coming to and from the Port of Vancouver, we anticipate that time to roughly double."
However, Mayor MacDonald explained that this would not be a fast process and the city still had a lot to figure out before such a commitment could be made.
"We don't have the answers at this point," said MacDonald. "This will potentially be an all-hands-on-deck community decision. There will be an ask for feedback and engagement. There have already been reach outs to the province and our ministers."
"This project is on life support at this moment."
Pitt Meadows CAO Mark Roberts said that regardless of what happens with the potential referendum, the city would still try to pursue similar efforts to ease traffic concerns surrounding CP Rail operations.
"We feel at the staff level that this is critical infrastructure and will continue to be a priority for council and staff no matter what the outcome is through this process," said Roberts. "We will be moving forward with avenues to advocate regardless of anything to attempt to move forward the project in some fashion in the future."
CP Rail also had a representative at the council meeting, but solely spoke on updates regarding the third rail line being installed just south of Lougheed Highway.
Cost of key Pitt Meadows rail crossing triples, city asked to chip in $50M
Simon Little and Julie Nolin
Global News
March 30, 2023
https://globalnews.ca/news/9590628/pitt-meadows-harris-road-crossing-cost/
The City of Pitt Meadows, B.C., is facing an unexpected financial crunch after being asked to contribute $50 million for a badly-needed rail underpass.
The project is meant to address traffic congestion on Harris Road where the route intersects Canadian Pacific Rail's rail corridor.
Rail traffic at the busy crossing results in about 3.5 hours of vehicle traffic stoppage per day, and is estimated to more than double in the coming decade.
The cost of the project was assessed in 2017 at $63.3 million, with no contribution from the city. Project costs have now more than tripled to over $190 million.
On Tuesday, the city heard a presentation from the Vancouver Fraser Port Authority warning that without a contribution for $49.6 million from the city, the project could be at risk.
"We were not (originally) a funding partner," Pitt Meadows Mayor Nicole MacDonald told Global News.
"So now to see the city of Pitt Meadows with residents of 20,000, less than 20,000, and a small business community, being asked for $50 million, it's not sitting well with many of our residents."
Pitt Meadows' entire 2023 budget, approved in December, comes in at just $50 million.
MacDonald said the change puts the city in a difficult situation because the critical crossing is already facing challenging train-related delays.
The city is home to the second largest industrial park in B.C. and an Amazon distribution warehouse, she said, while CP has indicated it plans to move forward with a rail expansion regardless of whether the underpass is built.
"The current crossing is in the top three per cent riskiest rail crossings in the nation, it's the second busiest in the Lower Mainland," she said.
"Obviously safety and the health of our public remains number one. As well, you see the escalation of rail and truck traffic and vehicle traffic are going to have a significant effect on the living quality for our community members, economic viability, so we need a solution. We need an underpass."
Devan Fitch, program director of Roberts Bank Terminal Two with the Vancouver Fraser Port Authority, told Global News the increased project cost was due to several factors.
Construction costs have faced significant inflation in recent years, while there have been design code changes that now require the project to be built to a higher standard of seismic safety, he said.
The complexity of the project has also turned out to be higher than originally expected, he added.
"The 2017 estimate was a point in time estimate based on design measured in a few months, with very little stakeholder consultations and no side investigations," Fitch said.
"We've seen over the four or five years a global pandemic, geopolitical instability affecting supply chains and rates of construction cost inflation that we quite frankly haven't seen in many decades."
Fitch said those cost pressures have been baked into the new project budget, and that the port authority was "confident" the new numbers were solid.
But he said the new project budget estimate was also time sensitive — and that due to inflation in the construction industry every additional month of delay would add an estimated $1 million to the total cost.
"The decision before us and the city of Pitt Meadows, is do they get the right level of benefit relative to the cost, and if the answer is yes, then we can move forward," he said.
"And if the answer is no, then the project won't go forward."
CP Rail declined an interview request, and referred questions to the port authority.
MacDonald said the city was now scrambling for a creative solution that will still see the crossing upgraded without leaving taxpayers with a financial burden they can't afford.
She said the city was opposed to an overpass as an alternative, noting that while initial cost estimates were lower than the underpass they could still climb just as the underpass did once it was fully fleshed out.
She said an overpass would also leave the city on the hook for ongoing maintenance and insurance costs.
The city is now going to senior levels of government and Transport Canada looking for financial help.
If the city isn't able to secure that funding, it will have to put the matter to a referendum among residents and businesses, she said.
"We are focused on finding solutions as we know this is critical infrastructure for our community," MacDonald said.
"This isn't a want, this is a need."