As big decisions loom on the fate of the Port of Vancouver's Roberts Bank Terminal 2 (RBT2) project, which headline does the Government of Canada prefer?
Amid much manufactured hype from the Port of Vancouver, it is clear that RBT2 is not in the public interest. According to business, labour, community and environmental groups as well as the local government, there is still time to make the right decision. The Government of Canada needs to #RejectRBT2 and build a #BetterDeltaport.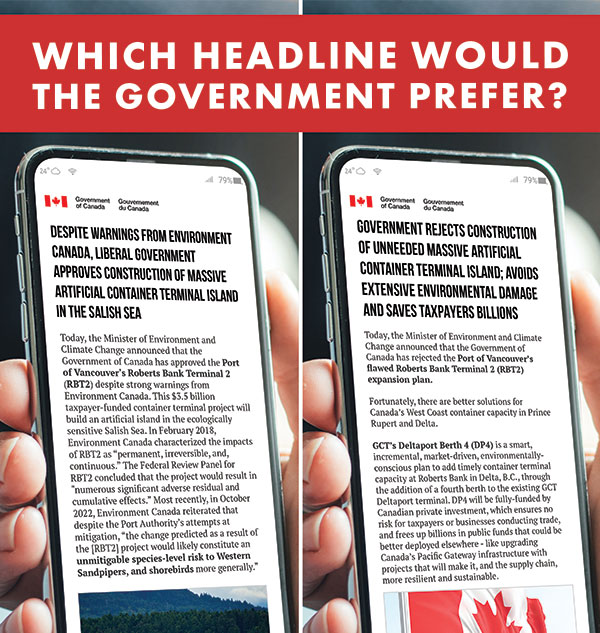 Newspaper Headline: DESPITE WARNINGS FROM ENVIRONMENT CANADA, LIBERAL GOVERNMENT APPROVES CONSTRUCTION OF MASSIVE ARTIFICIAL CONTAINER TERMINAL ISLAND IN THE SALISH SEA
Newspaper Text: Today, the Minister of Environment and Climate Change announced that the Government of Canada has approved the Port of Vancouver Roberts Bank Terminal 2 (RBT2) despite strong warnings from Environment Canada. This $3.5 billion taxpayer-funded container terminal project will build an artificial island in the ecologically sensitive Salish Sea. In February 2018, Environment Canada characterized the impacts of RBT2 as "permanent, irreversible, and, continuous." The Federal Review Panel for RBT2 concluded that the project would result in "numerous significant adverse residual and cumulative effects." Most recently, in October 2022, Environment Canada reiterated that despite the Port Authority's attempts at mitigation, "the change predicted as a result of the [RBT2] project would likely constitute an unmitigable species-level risk to Western Sandpipers, and shorebirds more generally."
OR
Newspaper Headline: GOVERNMENT REJECTS CONSTRUCTION OF PORT OF VANCOUVER UNNEEDED MASSIVE ARTIFICIAL CONTAINER TERMINAL ISLAND; AVOIDS EXTENSIVE ENVIRONMENTAL DAMAGE AND SAVES TAXPAYERS BILLIONS

Newspaper Text: Today, the Minister of Environment and Climate Change announced that the Government of Canada has rejected the Port of Vancouver's flawed Roberts Bank Terminal 2 (RBT2) expansion plan.
Fortunately, there are better solutions for Canada's west coast container capacity in Prince Rupert and Delta.
GCT's Deltaport Berth 4 (DP4) is a smart, incremental, market-driven, environmentally-conscious plan to add timely container terminal capacity at Roberts Bank in Delta, B.C., through the addition of a fourth berth to the existing GCT Deltaport terminal. DP4 will be fully funded by Canadian private investment, which ensures no risk for taxpayers or businesses conducting trade, and frees up billions in public funds that could be better deployed elsewhere - like upgrading Canada's Pacific Gateway infrastructure with projects that will make it, and the supply chain, more resilient and sustainable.
DP World's Terminal 2 at Prince Rupert Port is a new container terminal –completely separate from the existing Fairview Terminal also operated by DP World -- that could add as much as 2 million TEUs of annual capacity to Prince Rupert, significantly increasing Canadian trade capacity with critical Asia-Pacific markets. DP World and the Prince Rupert Port Authority have initiated various studies on the proposed site, with a key focus on steps required to minimize environmental and community impact, improve the resilience of Canadian supply chains, and ensure the project's full integration into the Port's intermodal ecosystem.